EMERGENCY DEPARTMENT (DEA)
A model of healthcare and assistance at the service of everyone in the community
The Emergency Department (DEA) of Campus Bio-Medico University Hospital is part of the time-dependent network of the Lazio Region Healthcare system to provide timely treatment for a broad spectrum of illnesses and injuries.

Completely integrated into the University Hospital, the department occupies an area of 2100 square meters and it was built following the most up-to-date organizational, technological and triage models. The design is modern and functional in order to ensure maximum comfort and the least possible displacement of patients, thanks to a carefully managed patient-flow according to emergency levels with one area dedicated to high priority and a separate area for medium-low priority.

The Emergency Department operates 24 hours a day; in the immediate vicinity of the high-emergency level area it is equipped with a dedicated operating theater, as well as specialized areas in interventional radiology and cardiovascular hemodynamics. We can also count on dedicated Diagnostic Imaging service with a 300-layer high-performance CT scan, 8 intensive short observation beds (OBI) for prolonged observations, for the first 44 hours from being admitted to the emergency department, and 12 beds in the Holding Area for those waiting to be admitted into the hospital or to be transferred to other facilities in case of lack of available beds. In addition, a "fever path" alongside the perimeter of the main building, purpose-built to safely manage access to the emergency department, in order to minimize infection risks related to Covid-19.

Access to the building has been designed with special attention to patients and family members: the Emergency Department is equipped with a heliport adjacent to a convenient car park, we have installed sound-absorbing phone booths to ensure privacy when making phone calls, TV and information monitors are available, as well as wi-fi, charging stations and a refreshment area. All of these features make the waiting room a welcoming and reassuring environment.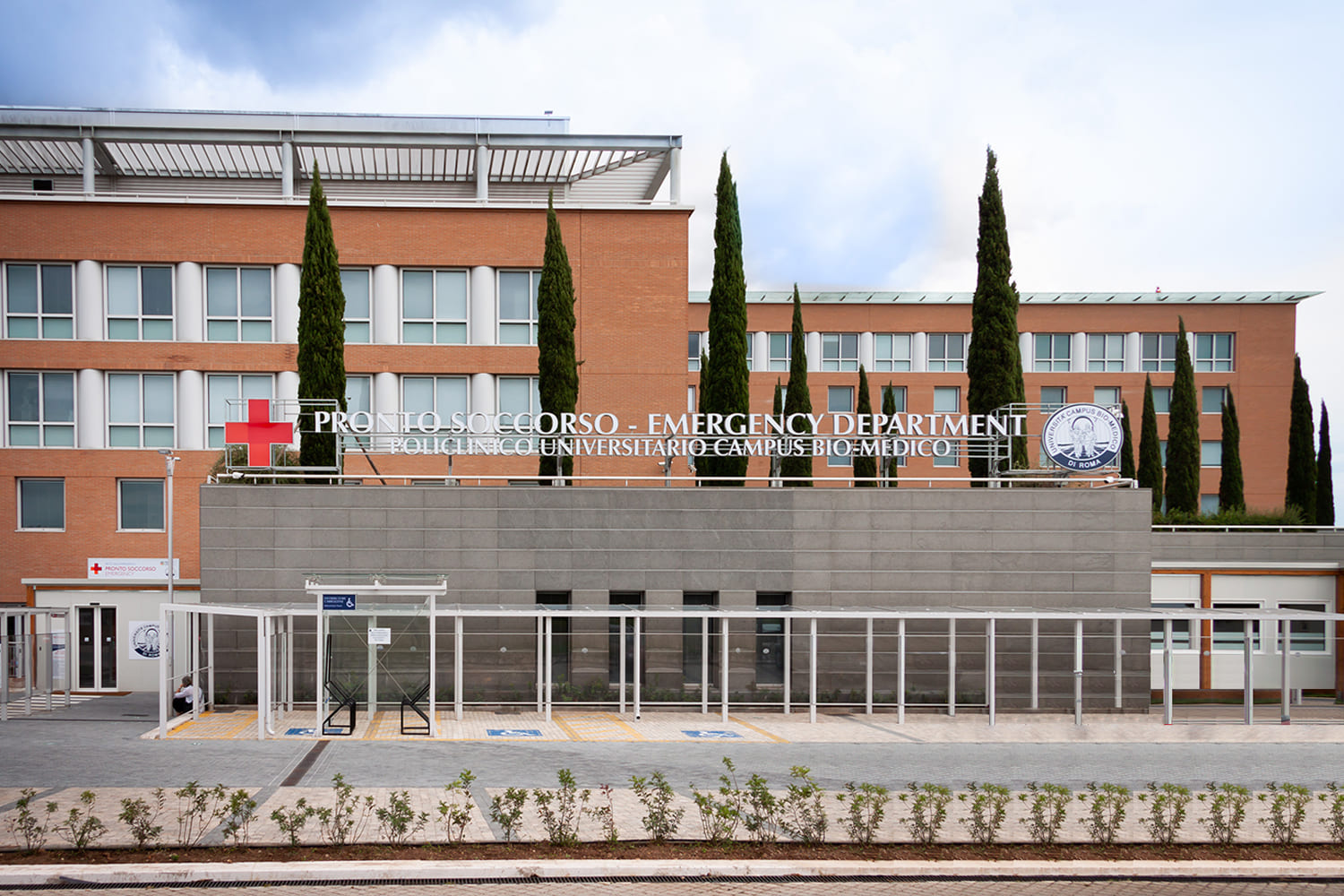 The Emergency Department has been designed to respond to the population's health needs through a sustainable organizational model, constantly monitored and updated, and assistance methods tailored to each individual patient. A model based on listening and welcoming all, having as pillars strong communication, responsibility, caring and assistance. We aim to guarantee high quality standards whilst respecting specific needs of individuals.

The Emergency Department of Campus Bio-Medico University Hospital is made up by two Complex Operational Units: one focusing on First Aid and the other on Emergency Medicine. In addition, procedurally the First Aid Radiology Unit and the Orthopedic Emergency Room also fall under the Emergency Department. The Anesthesia and Resuscitation Complex Operational Unit with a dedicated doctor 24 hours a day and the Surgery Center support the activities of the Emergency Department.